Most Recent Price Reductions:
No Listings Found
Most Recent Listings Added:
No Listings Found
Chandler Communities: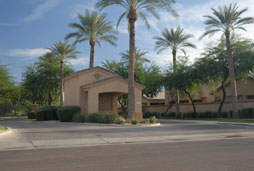 Private Desert Oases
No desert home is complete without your own private pool. Pool properties in Chandler, AZ come in a variety of styles, shapes and sizes to meet every need and desire, whether you looking for pools for real swimming or just sunning and taking a quick dip to cool off. These properties offer a variety of other amenities depending on your interests such golf community of Crown Point or gated Oakwood Hills. Other communities that feature private pool real estate include Lakeshore at Andersen Springs, Hartford Estates and Pecos Aldea, just to name a few. These homes were built between 1946 and 2015 and range in price from $85,000 to $5,500,000.
Athletic Home-shoppers Take Note
This city is in a great location near the many freeways that will connect you to the Valley of the Sun. Several professional sports teams, the Suns, the Cardinals, the Diamondbacks and the Coyotes make their home in Phoenix. Enjoy the MLB Cactus League spring training throughout the Valley. Chandler has easy access to the Loop-101, the I-10 and Loop-202, which will allow you to reach other parts of the Phoenix metropolitan area within minutes.
Homeowner
The city of Chandler provides top-notch city services. Outdoor parks offer loads of fun activities in near perfect weather year-round. Chandler boasts of bark parks, the Tumbleweed Tennis Complex, an Environmental Education Center, the Paseo Trail, a bike park and a Hummingbird Habitat at Desert Breeze Park.
Homeowners who desire a bit of culture will be pleased to learn that the Chandler Center for the Arts features the Chandler Symphony Orchestra, as well as many exhibitions throughout the year. The Center also serves as the performance venue for nearly 40 performing groups. Performance and visual arts courses are offered to all ages.
With a quick search on the MLS of Chandler homes for sale with private pools, finding the home of your dreams is a breeze!