Most Recent Price Reductions:
No Listings Found
Most Recent Listings Added:
No Listings Found
Chandler Communities: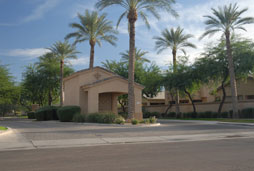 The Lifestyle You've Earned
Retirement is a chance to say goodbye to stressful jobs and time-consuming chores, and hello to all the enjoyable activities you never seemed to have enough time for in the past. Active-adult communities in Chandler understand this and provide buyers with some of the best retirement developments Arizona has to offer. Here, you can enjoy your favorite pastimes and mingle with likeminded folks who may just become lifelong friends.
Chandler, Arizona enjoys about 330 sunny days a year and an average temperature of 85 degrees, so it's no wonder so many folks age 55+ flock to this cozy city located in the greater Phoenix area! From golfing to shopping, and fishing to sight-seeing, there is always plenty to see and do here!
East Valley Retirement Communities
Chandler senior communities are featured in 50 listings on the Arizona Regional Multiple Listing Service (ARMLS). These currently range in price from $74,500 to $479,500, which means every retiree can find affordable, independent senior housing in this fabulous town. Space isn't a problem, either, since these properties are available in a variety of floor plans with generous square footage.
While most age-restricted developments offer some kind of on-site amenities, each active-adult community in Chandler, AZ has its own special personality. The Ocotillo area provides an active-adult golf community with The Village at Ocotillo, where retirees can take advantage of a membership discount at Ocotillo Golf Resort. Merrill Gardens promotes residents' choice to live as freely and independently as they like, and also offer homeowners the opportunity to participate in the special events that make it such a popular place to live and play. The Sunbird Golf Resort is an active-adult gated community with swimming pools, tennis courts, shuffleboard courts and a number of rooms dedicated to a variety of hobbies such as ceramics, dancing and cards.
Explore the World Beyond 55+
You know retirement doesn't mean sitting at home all day. Luckily, entertainment and recreation abound in the Valley of the Sun. Seniors can spend the day downtown, browsing the multiple shopping locations and enjoying a number of dining spots. In fact, the downtown district was recently named to the National Register of Historical Places, and everyone can enjoy the various art galleries, special boutiques, wineries and restaurants. Of course, even more shopping opportunities present themselves in the impressive Fashion Center Mall.
Each 55+ community with homes for sale in Chandler plans their own special events such as dinner dances and holiday programs. In addition to these special events, retirees can enjoy many city events for entertainment and chances to mingle. Such events include the Spring Starlight Concert Series, the Ostrich Festival and the Jazz Festival. Chandler hosts various holiday events, including the Fourth of July Celebration and the Tumbleweed Tree Lighting festival. For even more cultural entertainment, visit the Vision Gallery. This nonprofit art gallery showcases local, regional and nationwide art of all sorts. If you're new to the area, you may want to check out the Chandler Museum for a bit of history about your new city.